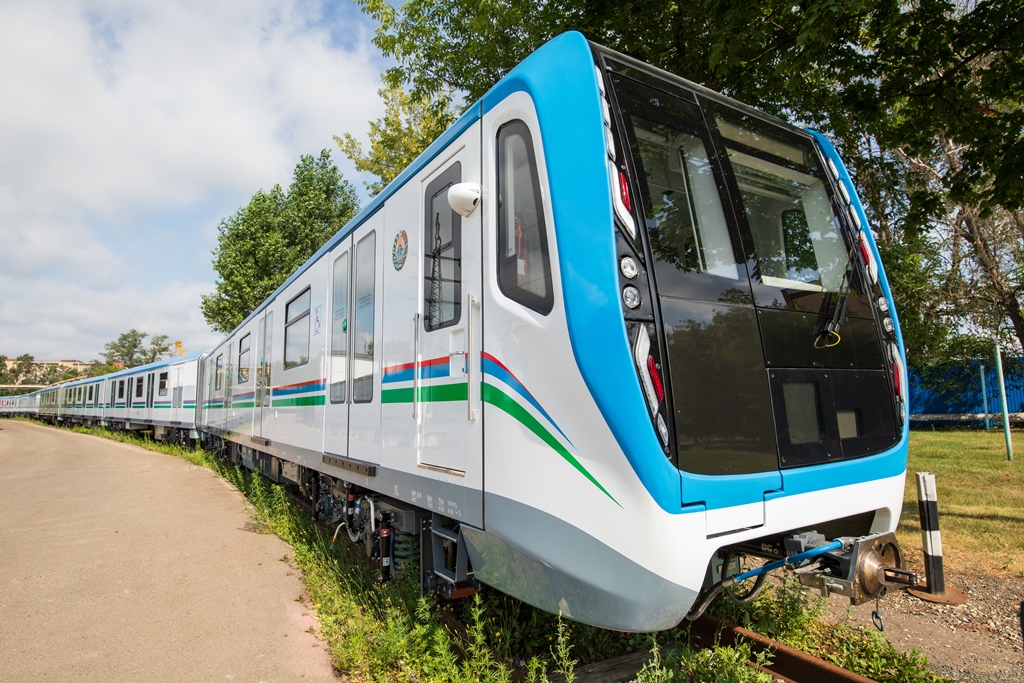 13.10.2021
Metrowagonmash (MWM, part of TMH) sent 20 modern metro cars of the 81-765.5/766.5/767.5 model to Tashkent, completing the fulfillment of obligations to the Tashkent Metro. The metro cars were designed by the designers of TMH Engineering (TMHI, also part of TMH), taking into account the peculiarities of the Tashkent metro. The new metro cars will form 10 4-car trains.
The contract for the manufacture of 40 metro cars Metrowagonmash and the Tashkent Metro was signed in April this year. Deliveries are carried out at the expense of a loan provided by VEB.RF. Under a separate loan agreement, the project is supported by the Russian Export Center (REC) group: part of the cost of metro cars and the cost of a set of spare parts and accessories under the insurance coverage of EXIAR JSC (REC group) is financed by Eximbank of Russia JSC.
Metro trains of model 81-765/766/767 in various modifications are operated in Moscow, Kazan, Baku and Tashkent. The rolling stock is equipped with intercar gangways with a through passage for free movement of passengers through the train. Double doors with a width of 1.4 meters are equipped with external light signaling of the open and closed state. Wheelchair spaces are provided in the head cars. Each passenger salon is equipped with touch-screen information monitors with interactive finding of the destination station, building the route, and calculating travel time. Passenger salons and driver's cabins are equipped with video surveillance, air conditioning and air disinfection systems. The windshield of the driver's cab is equipped with an adjustable manual sun screen, taking into account the features of the overhead elevated Tashkent metro. The service life of metro cars is 30 years. The design speed of the metro train is 90 km/h.
In 2019, Metrowagonmash delivered a batch of 20 metro cars to Tashkent. In the summer of 2021, the company sent another 20 metro cars to Uzbekistan as part of the first batch of rolling stock.
Metrowagonmash and the Tashkent Metro have been cooperating since 1977.