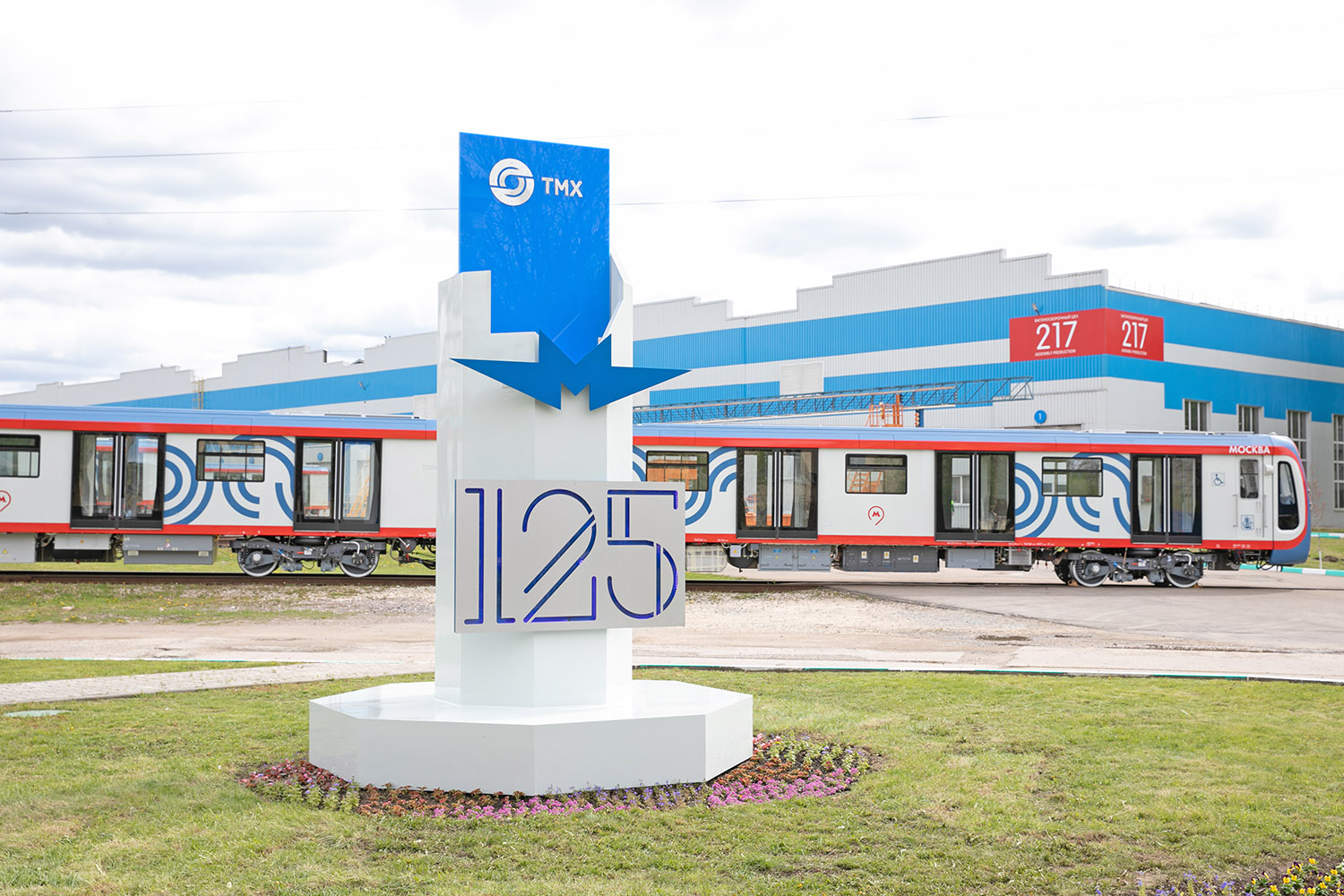 18.05.2022
Metrowagonmash (MWM, part of TMH) hosted a solemn ceremony of opening a jubilee stele in honor of the 125th anniversary of the founding of the company. The art object, which reflects the significance and uniqueness of the factory, was made by the labor collective especially for the celebration of the anniversary. The stele was opened by Andrey Vasiliev, CEO of Metrowagonmash, and Yulia Kupetskaya, head of the Mytishchi urban district.
In his welcoming speech, Andrey Vasiliev noted that the factory has come a long way, manufacturing horse-drawn trams, electric trains, dump trucks, diesel trains and, of course, metro cars, which have been the main products of the company for many years. "Our metro cars are the most beautiful; this was recognized last year by the international award Red Dot 2021 for industrial design. The work of the labor collective was awarded the Russian Government Prize for achievements in the field of quality, - Andrey Vasiliev said. – The main value of the factory is its people. This holiday is dedicated to you, employees of Metrowagonmash. Thank you for your strength and your time that you spend to ensure that our company flourishes!".
The head of the urban district of Mytishchi, Yulia Kupetskaya, presented a congratulatory address from the governor of the Moscow Region and a commemorative plaque from the city administration to the factory's staff. "Today is a significant moment for the company, for the city and for the whole country. Our country and city district develop when companies develop. When people can work close to home, receive a decent salary, a stable social package. In addition, we are very glad that such key companies are located in our urban district, - said Yulia Kupetskaya. - The heart of the company is its employees, whose hands assemble those trains that are used by passengers of the capital and other cities. We are proud of this company. With all my heart I wish you further development and stability!
As part of the festive events, an award ceremony was held for representatives of the Metrowagonmash labor collective for conscientious work and significant contribution to the development of the company. The awards of the federal and regional ministries were presented to the workers of the factory by a member of the Board of Directors of the company Kirill Bratyakov, First Deputy Head of the Moscow Metro Dmitry Doshchatov, chairman of the Council of Deputies of the city district of Mytishchi Andrey Gorelikov.