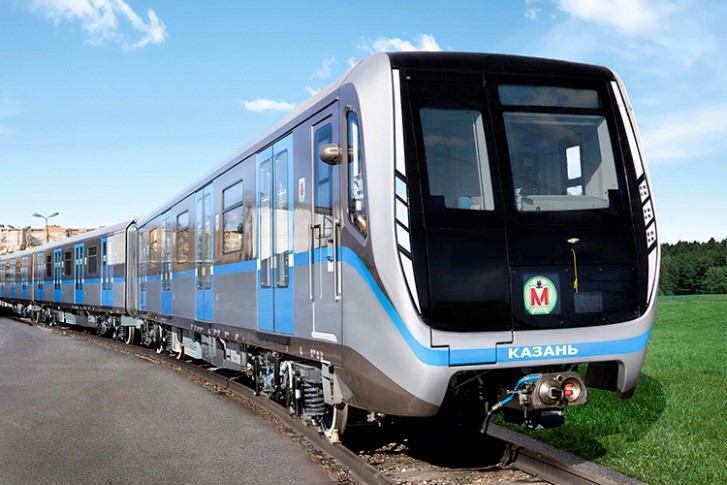 19.05.2020
METROWAGONMASH (MWM, part of TMH) has sent a new metro train to MUE Metroelektrotrans (Kazan).
The contract for the manufacture and supply of a four-car metro train of 81-765.4K/766.4K series (two motorized head cars and two motorized intermediate cars) based on the Moskva-2019 model was signed in October 2019.
One of the main technical innovations - electrodynamic braking of the train to a complete stop - was applied in the 81-765.4K / 766.4K metro cars. This technology allows the train to slow down with electric motors, without the use of a friction brake, resulting in smooth and quiet braking.
The design of the train provides for a passage through the whole train, which allows free movement along the cars and makes life much easier for passengers with luggage. During a pandemic of coronavirus infection, the presence of the gangway in the metro train helps passengers to move freely around the cars and minimize contact between people. Additional protection against the spread of COVID-19 infection is provided by modern automatic air disinfection systems.
The seat covering is made of durable fabric resistant to damage and is easy to clean. A hexagonal handrail with a "warm" coating is installed under the ceiling between the doors of opposite sides, it is convenient for those who are at the doors and are preparing to leave. The passenger salon is equipped with LED lamps that change lighting depending on the time of day - invigorating cold light in the morning; a relaxing warm one in the evening. Modern electronic displays with high-resolution monitors installed in 81-765.4K/766.4K series metro cars allow passengers to build an optimal travel route. The salons have USB sockets for charging phones, tablets and other gadgets. Special seats are provided in the head cars for passengers with limited mobility and parents with strollers. The train uses a modern information system and optimized electrical equipment. Compared to the trains of the previous modifications, the driver's console has been changed; a wireless headset, providing continuous communication with the control center is added.
At the request of the customer, the new train is additionally equipped with elements of the "Dvizheniye" safety system, which is comprehensively used in the Kazan metro. The rolling stock is painted in the colors of the 81-740.4/741.4 series metro cars used in the Kazan Metro, manufactured at Metrowagonmash in 2012.
Metrowagonmash and Kazan Metro have been cooperating since 2010. During this time, 27 metro cars were manufactured for the metro of the capital of Tatarstan.