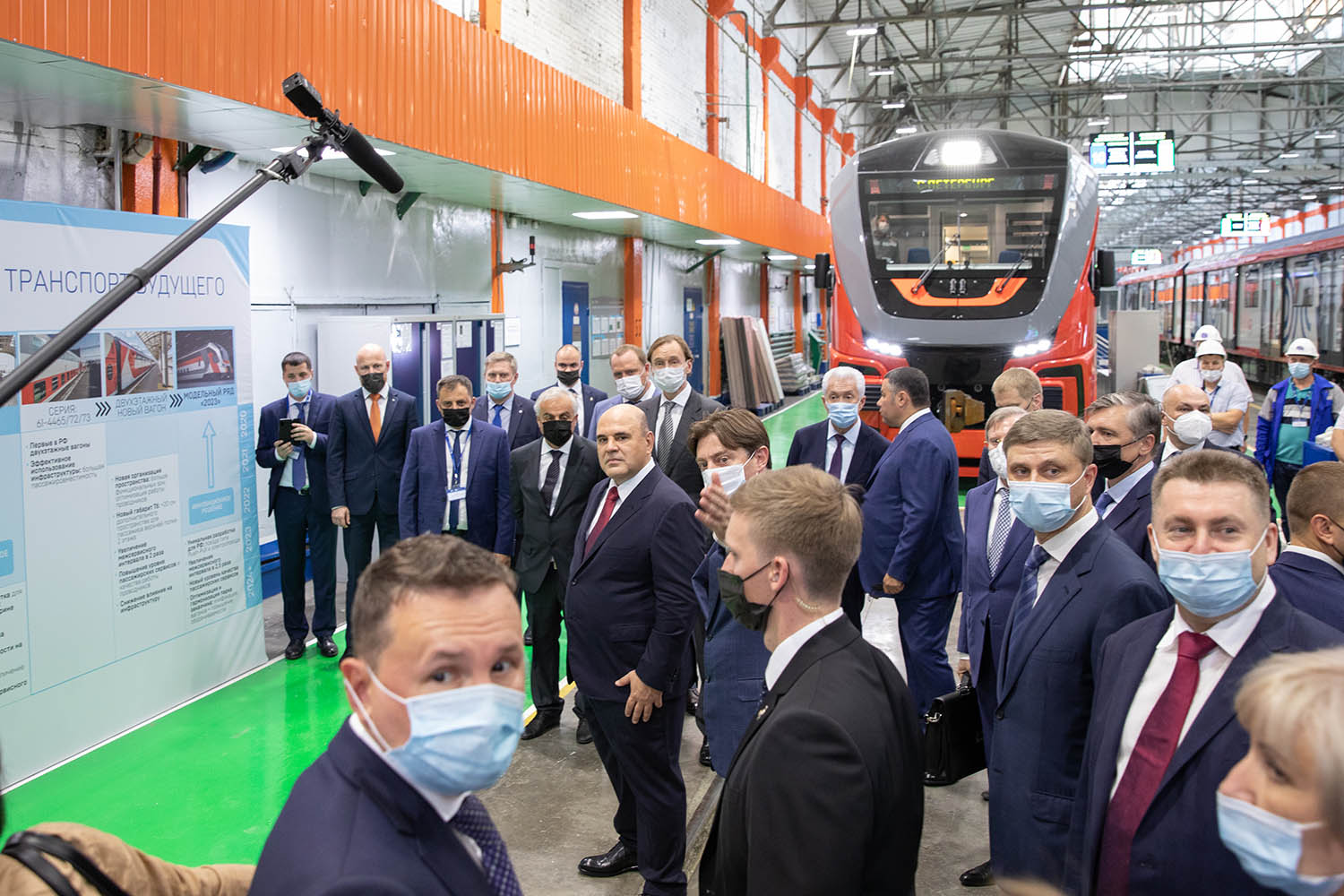 13.07.2021
Russian Prime Minister Mikhail Mishustin gave a positive assessment of the modern products of Transmashholding (TMH), presented to his attention during his visit to the Tver Car Factory (TVZ, part of TMH).

M. Mishustin highly appreciated the modern double-decker cars that are produced at TVZ. "Honestly, frankly absolutely: I like it here. Once, we all traveled by train quite actively. It's very nice and, most importantly, everything is thought out," he noted.
The Prime Minister noted the high quality of the design of the non-compartment car offered to his attention: "Imagine, student teams, friends, if they go, it seems to me that it's very convenient, very comfortable done, the ergonomics are thought out ".

The head of the Russian government especially appreciated the work that the designers did creating the cars. "So if you go in, look, there is not much space, but when we sit and talk, there are no problems," said M. Mishustin.

The chairman of the government was shown a modern production control center, got acquainted with the programs of digitalization of production and management processes implemented in the holding.
The head of the Russian government visited TVZ in the morning of July 13 during his working trip to Tver. He was presented with modern and promising developments created at the companies Transmashholding - one-story and two-story locomotive hauled wagons, including a wagon for the Egyptian Railways and a passenger wagon concept in T gauge; DC electric train EGE2Tv "Ivolga 3.0", metro train 81-775/776/777, rail bus RA-3 "Orlan", hybrid shunting diesel locomotive TEM5X.
The Minister of Transport of Russia Vitaly Savelyev, Governor of the Tver Region Igor Rudenya, General Director of Russian Railways OJSC Oleg Belozerov, Advisor to the President of the Russian Federation Vladimir Vasiliev, President of Transmashholding Andrey Bokarev, Chairman of the Board of Directors of JSC Transmashholding Dmitry Komissarov, Director General of JSC Transmashholding, member of the Bureau of the Union of Machine Builders of Russia Kirill Lipa visited the Tver Car Factory together with Mikhail Mishustin.