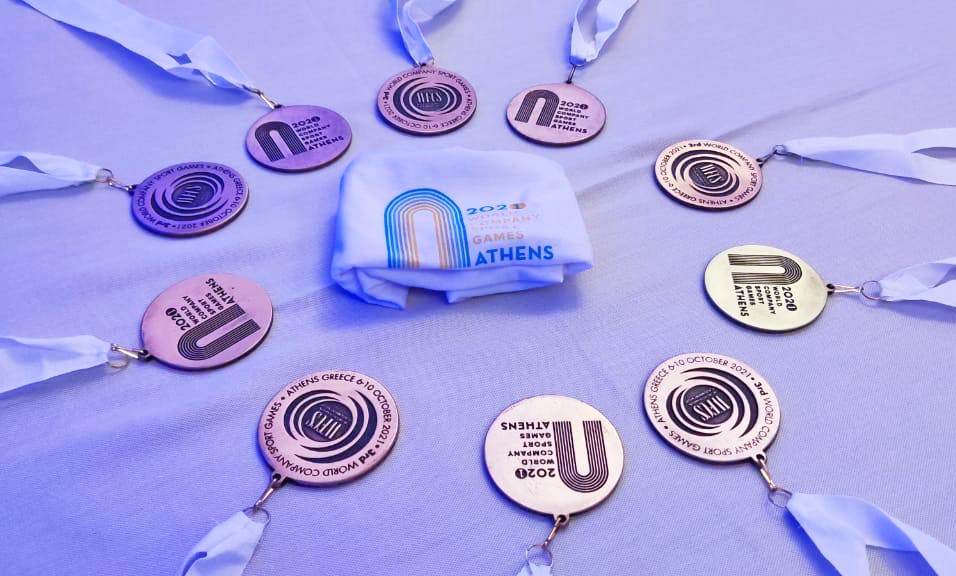 19.10.2021
Athletes from Metrowagonmash (MWM, part of TMH) won one gold and four bronze medals at the 2021 International Corporate Games held at the Panathinaikos Stadium in Athens. The highest standard award was won by the company's football team. It is noteworthy that in the final of the tournament the MWM players played against colleagues from the Bryansk Machine-Building Factory (BMZ, also part of TMH), and beat the opponent in a penalty shoot-out. Mytishchi residents earned bronze medals in 50m freestyle and backstroke swimming, athletics (5 km run) and table tennis in mixed teams.
At the 2021 Games, Transmashholding (TMH) was represented by three companies - Metrowagonmash, Bryansk Engineering Factory and Penzadieselmash. Sports teams of MWM, BMZ and PDM won prizes in all disciplines where they were declared.
The World Federation of Corporate Sports (WFCS) was established on June 2, 2014. The organization holds international corporate sports games in summer in even years and in winter in odd years. The 2021 Games were scheduled to take place in the summer of 2020, but were postponed due to the pandemic. The competition was attended by teams from 37 countries of the world, representatives of well-known international brands, including Porsche, Airbus Veolia, Cosmote Mercedes, Herbalife and others.
Metrowagonmash pays great attention to the sports life of its employees. The company organizes football, hockey, volleyball, basketball, swimming, athletics, and table tennis teams. Athletes actively participate in city championships and corporate competitions of Transmashholding , in internal factory tournaments. So, for example, at the end of August, an athletics relay was held, in September, a 6x6 football championship was held, and in early October, a sports contest was held as part of the traditional Health Day.