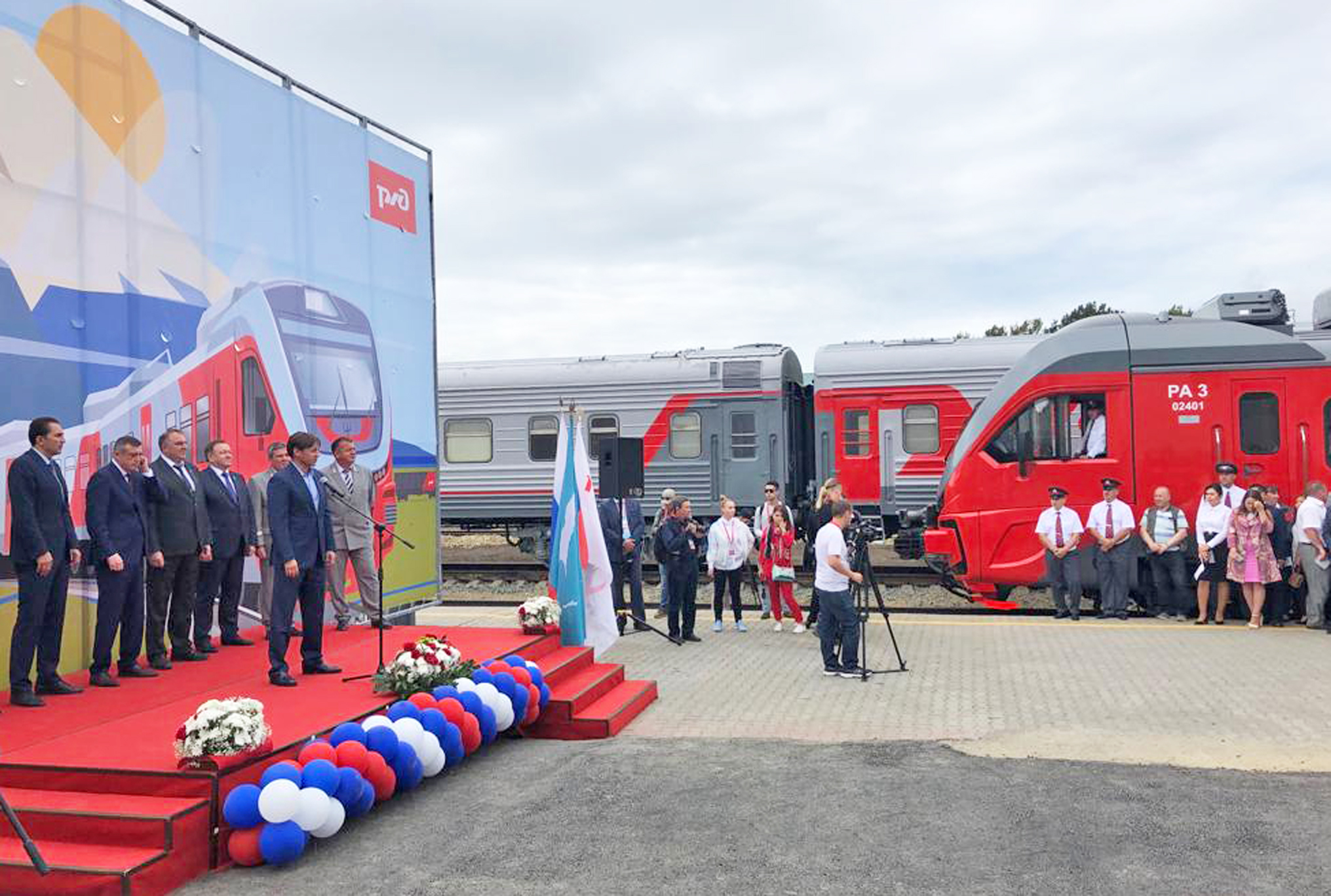 30.08.2019
A solemn meeting was held in Sakhalin Island on August 30, dedicated to the commissioning of the railway infrastructure, which was transferred to the All-Russian standard of 1520 mm gauge. RA-3 rail bus (DMU), a new product of JSC METROWAGONMASH, will carry passengers there.
The meeting was held at the railway station of Yuzhno-Sakhalinsk. The ceremony was attended by over 150 people. The RA-3 rail bus was put up on track No. 1; a festive venue was located nearby. The honorary guests of the event were acting Sakhalin Region Governor Valery Limarenko, Mayor of Yuzhno-Sakhalinsk Sergey Nadsadin, Deputy Director General of Russian Railways Dmitry Pegov, Head of the Far Eastern Railway Nikolay Maklygin, Director General of JSC Transmashholding Kirill Lipa and Director General of JSC METROWAGONMASH Boris Bogatyrev. In his welcoming speech, Valery Limarenko noted that he was very proud of the Sakhalin region, because this is the first region where the operation of new rail buses begins, and the head of the Far Eastern Railway Nikolai Maklygin called the transfer of gauge to standard 1520 and the launch of RA-3 "an epoch-making event of all Sakhalin."
During the festive program, TMH Director General Kirill Lipa handed a symbolic key to the first train the train driver - a bracelet with a telemetric system for monitoring wakefulness and well-being. During the test drive on the new rail bus, Metrowagonmash director general Boris Bogatyrev made a presentation of the train, talking about the technical features and innovations used in buses of the third modification. "Special attention was paid to the comfort and safety of passengers during the design," said Boris Bogatyrev. - The train is unpretentious in maintenance and reliable. New climate control system, video surveillance, and fire alarm have been installed in the driver's cabin and the salon. The train is equipped with all necessary facilities, especially for disabled people."
In addition, the rail buses are adapted to low platforms. For the Sakhalin region, such a technical solution is of particular value. The Sakhalin Government backed up its order for rail buses with the agreement on the delivery of additional four RA-3 trains in 2020.